Welcome our New Board Members
The TAAGW Board of Directors has appointed new board members who bring great experience to the organization and a commitment to serving individuals living with TS! Please join us welcoming them!
Michael Chow has professional experience working in both the nonprofit and for-profit spheres, as well as in government, during which time he has had managerial responsibility for major projects. Michael currently works in Washington, DC as a researcher at a trade association. He has volunteered his time on multiple boards of directors for nonprofits, including the Asian American Alumni Association of Princeton University and the National Economists Club (NEC), among others.
"I believe that I can contribute meaningfully in helping the organization achieve its goals. I say this with the experience and knowledge of having lived my entire life with TS and having had to overcome the difficulties and challenges the condition presented - and continues to present - in my education, professional life, and social life," says Michael. "Much of my successes, if I have any to speak of, have been achieved without a strong support group that fully understands TS. Serving on the board and leading certain committees would provide me the opportunity to help individuals with TS younger than me manage and overcome challenges that everyone with the condition faces by sharing wisdom and insights on how to lead a healthy, successful life with TS that I have acquired over the course of my lifetime."
-----------------------------------------------------------------------------------------------------------------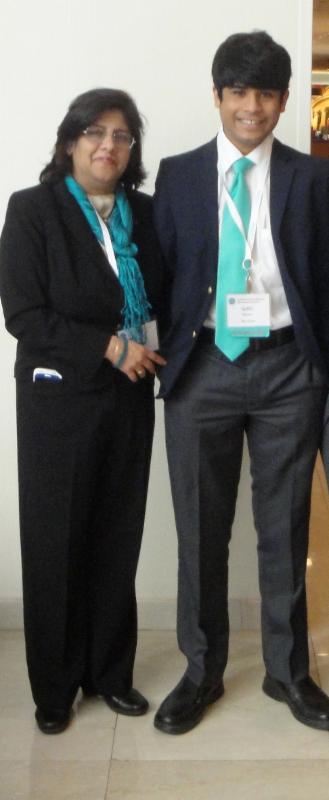 Ranjana Verma, MD has been involved with the Chapter for a number of years. Her son, Sahil, is one of our Youth Ambassadors. Ranjana currently works as a child psychiatrist at KeyPoint Health Services in Aberdeen, MD and at the Villa Maria School for emotionally and behaviorally challenged kids in Bel Camp, MD.
Ranjana and Sahil have been strong advocates for increasing awareness about TS, including attending meetings and speaking on Capitol Hill and providing in-school presentations.
"As a child psychiatrist, I will be able to contribute to discussions about medical aspects of TS including advances in the pharmacology and research into its etiology," says Ranjana. "I have treated many children with co-morbid disorders and have listened to all the frustrations that parents have in dealing with this complex disorder. I would like to share this experience with other members of the board to help provide supportive services for our kids with TS."
---------------------------------------------------------------------------------------------------------
Cindy Haynie is a registered nurse with a specialty in mental health. She currently works at PRMC, in the inpatient Mental Health Unit and also provides training in the Partial Hospitalization Unit that provides Outpatient Mental care. Cindy has volunteered for the past three summers as a camp nurse at Camp Twitch and Shout providing care to over 200 campers and counselors with TS each summer.
"I am the mother of a child with TS, and Eli has served as a Youth Ambassador since 2009. My son and I have done many educational presentations for schools and community organizations," says Cindy. "I have attended school meetings with families struggling for understanding and services for their children. My son is now grown up and successfully serving our country in the US Coast Guard, and I miss the involvement with families affected by TS. As a nurse it is my nature to be an advocate and my heart is with kids and their families dealing with this often cruel disorder."
"As a teacher, I possess a tremendous power to make a child's life miserable or joyous. I can be a tool of torture or an instrument of inspiration. I can humiliate or honor, hurt or heal."Haim Ginott